Craftsy is your online resource for all creative makers, where you can find everything you need – from basic instruction to advanced techniques. At Craftsy, we'll help you get it right the first time. Use our tailored project kits, step-by-step expert instruction and timely lessons to make things you're proud of over and over again. Explore thousands of video classes with printable resources on topics including quilting, sewing, knitting, crocheting, cake decorating, baking, cooking, drawing, painting, photography, paper crafting, jewelry making, home decor, gardening, woodworking, writing, fitness, and yoga.
Unlimited access to the entire Craftsy collection is now available by checking out a 7 day license.
Access: Click on EXTRAS! on the Libby app  (Android, Apple, or web app: https://libbyapp.com/ )
Log in: 8 digits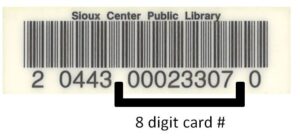 Need help? Check out this video tutorial or contact your library!
Visit