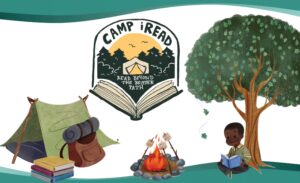 Every summer the library offers a summer reading program for people of all ages to encourage them to read, explore new authors and genres, and find out about the many different types of materials the library offers. The summer reading program is also a great way to encourage kids to keep reading during the summer when they aren't going to school. We offer incentives and fun activities and programs to keep them engaged in reading.
The 2022 summer reading theme is "Read Beyond the Beaten Path!" The program begins on June 6 and ends on August 4.

Beanstack is an online app that individuals can use to track their reading, minutes, and activities!  It is very user-friendly and easy to sign up for challenges and earn tickets toward the grand prize drawings.
Planning your summer activities?
Check out our brochure of children and teen Summer Reading activities. Summer reading isn't just for kids, we have classes, events, and activities for adults as well.
Programs and Performers:
Who can participate?

Family (0-4 year olds) – The summer reading program is for little ones too. Parents and kids can complete activities together to earn entries in the grand prize drawing.  – See all events for 0-4 year olds here.
TK-4th grade – Join the reading program and attend the fun programs this summer! Kids will track the number of minutes they read (or someone reads to them) to earn entries in the grand prize drawing. – See all kids events here.
5th-12th grade – You won't want to miss this year's reading challenge because we have some awesome prizes just for teens! Join us for activities ranging from chess club, to Spanish Camp, to Woodworking.  – See all teen events here.
Adults – Summer Reading isn't just for kids and teens. We also have a reading challenge for adults! Events include Dutch Oven Cooking, State Park Stickers, Swing Dance, and rural life speaker series.  – See all adult events here.
What else should I know?
Book Clubs

Story Hours

Summer Splash
-K-8th graders, sign up for a 6 week session of Summer SPLASH! We'll have literacy and STEM activities, recommended books, games, literature discussions and more.  Space is limited so sign up soon. (Registration opens May 15.)
Lego Clubs–During the summer there will be Lego Clubs for students who will be entering 2nd-8th grade.
How can I help?

Support the library – We are always in need of donations to help provide fun, educational opportunities for our community.
Volunteer  – We need 6th-12th grade volunteers to help us hand out reading logs and prizes or help behind the scenes preparing crafts, displays, prize packages, etc.
When does the reading program end?
The last day to turn in your reading logs and receive prizes/entries into the grand prize drawings is August 4, 2022.