One Book One Sioux County a collaborative program among the 8 public and 3 academic libraries in Sioux County in an attempt at community building through community conversation.
In this annual endeavor people and libraries-both public and academic-across Sioux County read and discuss the same book. The libraries host book talks in their own towns throughout the year. In the fall a collaborative event is held at a central location. In the past this has been the author visiting and a panel discussion of people involved in the story.
Save the date! One Book, One Sioux County will host author Tosca Lee on Thursday, November 4, 2021 at 7pm at the Dordt Ag Stewardship Center.  Learn more and register!
This year's selection is The Line Between by Tosca Lee.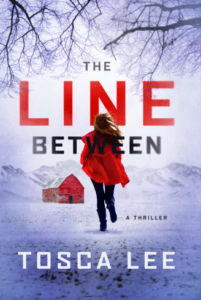 When 22 year-old Wynter Roth is cast out of self-contained doomsday cult New Earth, a mysterious outbreak of rapid early onset dementia is spreading across the nation.
As she struggles to start over in a world she's been taught to regard as evil, Wynter finds herself face-to-face with the apocalypse she's feared all her life, convinced she's made a terrible mistake. Until the night her sister shows up with a set of medical samples key to decoding the disease and Wynter learns there's something far more sinister at play.
Filled with action, conspiracy, romance, and questions of whom—and what—to believe, The Line Between is a high-octane story of survival and love in a world on the brink of madness.
About The Author
Tosca Lee is the award-winning, New York Times bestselling author of The Line Between and its sequel A Single Light, The House of Bathory Duology (The Progeny, Firstborn), Iscariot, The Legend of Sheba, Demon: A Memoir, Havah: The Story of Eve, and the Books of Mortals series with New York Times bestseller Ted Dekker.
One Book One Sioux County Selections by Year:
Borrow a One Book One Sioux County eBook or eAudiobook on Cloud Library: