Overdrive & Libby (Bridges) offer eBooks, eAudiobooks, eMagazines and a small collection of streaming movies. There is a limit of 3 books at a time, but magazines there is no limit to the magazines.  All materials return automatically after 2 weeks. In addition to the full collection, Overdrive has dedicated kids and teen reading rooms, so that your children see age-appropriate content.
New app: Libby by OverDrive is designed to make borrowing even easier and allows you to store multiple libraries and library cards in the same app.
Access Libby: Apple (iOS 9+), Android (5.0+), or read offline in your web browser on Windows, Mac computer, or Chromebook at  https://libbyapp.com/  Enjoy audiobooks in your car through Apple CarPlay, Android Auto, or a Bluetooth connection.
Kindles: The Libby/OverDrive apps can send your borrowed books to your Kindle for you to read there.
Log in: 8 digits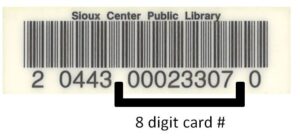 Need help? Check out the help page or contact your library! Need help with Libby?
Visit