The library has made efforts to reduce exposure to COVID-19, but the risk of infection cannot be eliminated! To further reduce your risk, consider using curbside service and online resources.
Masks 
We are recommending that all patrons follow the latest CDC guidance regarding masks. As of 5/19/2021, the CDC website stated "Fully vaccinated people can resume activities without wearing a mask or physically distancing, except where required by federal, state, local, tribal, or territorial laws, rules, and regulations, including local business and workplace guidance."
Programs and Events
The library is offering in-person programs and events. Zoom (virtual) options may be available for certain programs. Please contact a librarian for details.
Library Hours
Monday: 9:00-9:00pm
Tuesday: 9:00-9:00pm
Wednesday: 9:00-9:00pm
Thursday: 9:00-9:00pm
Friday: 9:00-5:00pm
Saturday: 9:00-5:00pm
Guidelines for Public to Follow
Patrons are advised to follow the CDC guidelines.
If you have a fever, cough, or shortness of breath, please do not enter the library.
Curbside Service Available
Please note that you need to submit a request ahead of time (online, phone, or email) and wait for an email or text notification that items are ready to be picked up.
Please stay in your vehicle or six feet away until the library staff places your items on the table.
We encourage you to reserve items online via our catalog. Please contact us if you need your PIN reset. The video below explains how to reserve items online.
Electronic Resources Available 24/7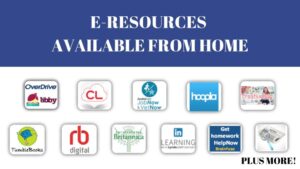 Check out our wide variety of electronic resources.
eBooks and eAudiobooks (Cloud Library, OverDrive, rbdigital, Hoopla)
Music (Hoopla)
Online courses (LinkedIn Learning with Lynda)
Language learning (Transparent Language)
Online tutoring (Brainfuse)
If you have recommendations for eBooks or eAudiobooks, please email us at support@siouxcenterlibrary.org
These electronic resources are available FREE of charge to all Sioux Center and rural Sioux County residents.

In light of the COVID-19 situation, we are offering a 50% discount on a year's worth of electronic resource access for residents of surrounding towns ($20 for Iowa residents, $30 for out of state). Please call us at 712.722.2138 if you would like to subscribe to these resources.

We are currently working with our vendors to reduce barriers to access. We have worked with the following vendors to remove the $5 fine limit that used to block you from accessing eBooks.

Cloud Library
Hoopla
OverDrive/Libby
rbdigital
Brainfuse Online Tutoring
Creativebug

We have doubled your allotted checkouts on Hoopla from 3 to 6.
Foundation Directory (grant search) will be temporarily available to you from home (it is usually only available within the library building).
Digital Library Cards Available
Fill out this form to apply for a digital library card from the safety of your home. This card can be used to check out items at Curbside Service or, if eligible, to access our electronic resources.
Meeting Rooms Open to the Public
Beginning August 1, the meeting rooms will once again be open for public use.  To reserve a room, please click here.  Patrons are responsible for maintaining appropriate social distancing guidelines when using these rooms.  Rooms and high-touched areas will also need to be sanitized by the user prior to leaving the library.
WiFi Available in Parking Lot 24/7
We know not everyone has internet access at home. We are committed to keeping our WiFi on 24/7 during this COVID-19 epidemic. You are welcome to use the WiFi from your car in the parking lot or inside the library building.
Stay Informed!
Questions?
Please do not hesitate to contact us if there are other ways we can assist you at this time.
We realize this is a rapidly changing situation, and we will continue to post updates here as they develop.
Reliable Sources of Information on COVID-19
Iowa Resources & Information
United States Resources & Information
Worldwide Resources & Information
Local Resources & Information